Dry-All Wood Fibre Bulk Absorbents
The symbol for this product type is All Liquids - Yellow Triangle.
The symbol for this product type is Bulk - Blue Diamond.
Nature's Absorbent! - Dry-All wood fibre sweeps away messy spills in minutes. Pound for pound, Dry-All Fibre is four times more effective than clay products. Excellent as a floor sweeping compound, reusable and will not support combustion. This product also helps to absorb odours, is non-hazardous, and is environmentally safe. Packaged in easy-to-handle 10 lb. bags to reduce back strain.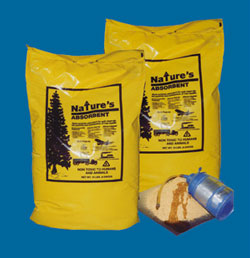 Absorbs all liquids including...
oils
solvents
coolants
water
brake fluids
transmission fluids
hydraulic fluids
paint thinners
lacquers
acids
caustics
For more information or if you have any questions please contact us.
Click here for detailed product specifications (product code, sizes, quantities, etc).